Please visit
WatchSoMuch.com
for our official address, Most functionalities will not work on unofficial addresses.
Hello Mr. Billionaire (2018)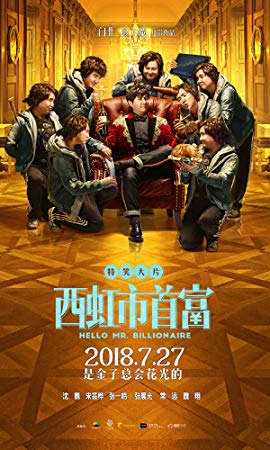 Comedy
China (Mandarin)
118 min
Bluray

10/10

10/10

0

Updated on 2019 Apr 15

793 Downloads
Director:
Da-Mo Peng

,

Fei Yan
Cast:
Teng Shen

,

Vivian Sung

,

Lun Ai

,

Bei-Er Bao

,

Morning Chang

,

Yuan Chang

,

Tzu-Chiang Chao

,

Michael J. Gralapp

,

Lambert Houston

,

Larry Hsien Ping Lang

,

Li-Chun Lee

,

Kung-Wei Lu

,

Chengsi Wang

,

Leehom Wang

,

Xiang Wei
Synopsis
Wang Duo Yu is a loser in life and a minor league football Goalkeeper. Unknown to him, he had a (recently deceased) rich Uncle. In order to test if Wang knows the value of money, he is given the task of disposing of 1 billion yuan in 30 days. Wang has to spent it legally and isn't allowed to have any assets to show for it at the end of the task. If Wang is successful, he gets to inherit his Grand Uncle's 30 billion yuan worth of assets. The biggest problem of all however, is that Wang is not allowed to tell anyone about the task, which create a lot of confusions to the people around him. He is also faced with the evil trustee company's bosses who desperately need him to fail in order to control the management of this huge assets.